Industrial Applications of the JISUI Water Treatment system cover a wide variety of Examples worth consideration.
From Food Processing to Ship building ; the potential is immense.
| | |
| --- | --- |
| CHEMICAL FACTORIES. | TOYOTA |
| The adoption of JISUI System makes INCREDIBLE differences in this field. ( hush - hush ) | TOYOTA has been using the System for its Top models after a long series of testing. |
SASEBO HEAVY INDUSTRIES. 

NEC


SASEBO is at the Centre of Shipbuilding, Naval Operations, Marine Activities & almost everything that floats.

NEC or Nihon Electric Corp. produces anything that works on circuits.
Imitations in the Far East, however, do not use the JISUI System.
YKK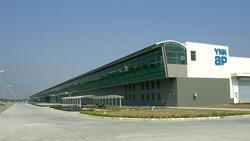 YKK has become the synonym for Zippers, worldwide.